Megan Pintus RYT 200
Megan Pintus has spent the last 8 years living in various places, but has found her home in Abingdon, VA — in a large part thanks to Whitetop Yoga. She began her yoga journey in college when she practiced Bikram yoga in Washington. However, her hunger for deeper spiritual knowledge led her to explore various types of yoga and philosophy with little satisfaction. Megan, a naturally curious, competitive, and impatient person, had her first taste of peace at Whitetop yoga 2 1/2 years ago and has since been studying the physical and spiritual aspects of yoga with the WTY community. Megan found that yoga has been a safe place to ask big questions, explore the ability of her body, and continue her journey of falling in love with the world, her community, and herself. Megan has her RYT from Kelly Golden with Vira Bhava Yoga and has also studied with Katie Silcox. She teaches Hatha yoga with an emphasis on asana with dynamic movement, pranayama, meditation, and using the 5 senses as a gateway to deeper understanding of the self and the world.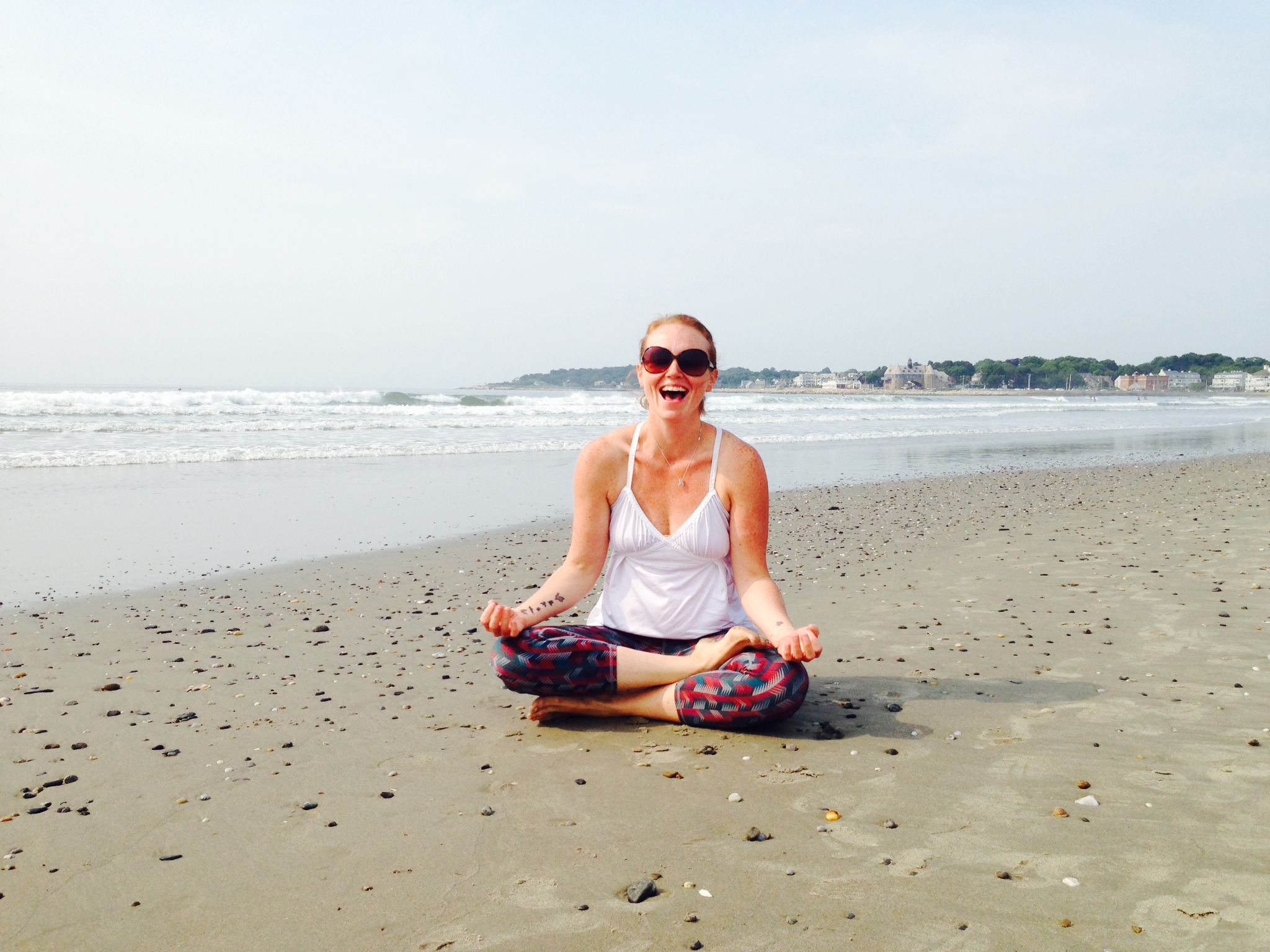 Victoria Chisholm RYT 200
Victoria was born in Southwest Virginia and returned to the area in 2014 to be closer to family. Victoria studied Literature and Linguistics at Mary Washington College in Fredericksburg, VA. She was first introduced and fell in love with yoga while studying for her Masters degree in Linguistics in Sydney, Australia. After moving to Rhode Island in 2007, Victoria became intricately involved in a yoga community and developed a deep connection with the practice and its benefits. This connection to the loving spirit of the practice led Victoria to complete her RYT-200 in Integrative Yoga Therapy at One Yoga Studio in RI in 2008.
Victoria studied Speech Language Pathology at James Madison University in Harrisonburg, VA and has studied Integrative Movement Therapy at the Samarya Center in Seattle, Washington. She regularly draws from yoga in her treatment of speech, language and feeding/swallowing disorders. Victoria completed her Prenatal Yoga Teacher Training in May of 2015 at the Asheville Yoga Center in Asheville, NC.
Victoria has two boys, Alistair, 4 and Henry, 2, who keep her busy and motivated. She loves spending time with her boys, being outside, cooking and interacting with her new community. Victoria is a founding member of Wolf Hills Heritage School, a cooperative early education school opening in the fall of 2016.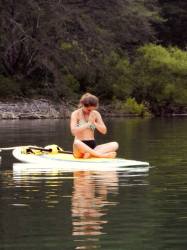 Nicole Dyer, RYT 200
Nicole settled into Abingdon, VA about 2 years ago. Born and raised in New Hampshire, she spent her childhood in a small town in the Granite State. She received her B.A. in Anthropology & Sociology from Saint Michael's College in the Green Mountain State of Vermont, where she got a taste of Yoga & Pilates in her first class at the College. Her longing for more spirituality, culture and human connection only deepened from then on. She studied in Spain for a semester, where she was able to get a taste of other people & places throughout Europe, giving her the appreciation for a variety of other philosophies & beliefs beyond her own. With a passion for the Spanish language, she intended to further develop her knowledge & understanding by working in Peru, helping sustain an organization through providing education, assistance with mobile health care units, sustainable tourism efforts and preservation of the Peruvian heritage. The common theme of helping herself and others find a healthful, peaceful way of living guided her to her next journey, which has begun unfolding in Abingdon, VA.
After completing a year as an AmeriCorps VISTA with Feeding America Southwest Virginia in Abingdon, her passion for health & wellness, especially through nutrition, led her to become the Manager of the Abingdon Farmers Market. She is fortunate enough to work with local growers, farmers & businesses in the community, all with focuses on healthy livelihoods for the region. She also works as a Nutritional Consultant at the Whole Health Center in town, where she continually offers her health-based advice and learns an abundance of alternative healing methods from an incredible wealth of knowledge in the store.
How has yoga intertwined itself into her & her into yoga, in this picture? She began practicing over three years ago, which developed into the most rewarded outlet, both internally and externally in her life. She has found peace from within during her continual voyage with yoga, and yearns to spread & share this never-ending experience with others, as inexplicable as this personal journey can be at times. She completed her 230 hour Yoga Teacher Training fall 2014. She is overjoyed and grateful to be welcomed to share this yearning to teach others at Whitetop Yoga, and looks forward to the experience with each and every individual that steps foot into the classroom.






Amesha Whitt RYT 200
Growing up in Big Stone Gap and later moving to the tricities area, Amesha calls Southwest Virginia and Northeast Tennessee home. Her first yoga class was in August of 2014 and she knew immediately she would want to teach. She received her 200hr Yoga Teacher Training certification through Bristol Yoga and InnerSea Yoga in August of 2015 and has loved teaching ever since. Amesha believes that yoga is so much more than a physical exercise. It is a sharpening of the mind and a discovery of the spirit. It is a light shining on the Self and on All Things; a light she loves to shine on others through her classes.
She fully believes that yoga can improve any ailments – physical, emotional, or spiritual- for any person. Other than yoga, Amesha enjoys art, literature, traveling, and her clowder of cats.






Tamara McNaughton RYT 200
Although she didn't know it at the time, Tamara stepped on the path of yoga in 1992 when she took a Buddhism class in college. The winding journey of the next twenty years took her through experiences like living without electricity for a couple years; road tripping the country; voraciously reading eastern, shamanic, and quantum philosophies; studying Brain Gym and Touch for Health; experiencing Rebirthing; working with youth; and farming. She apprenticed on her first farm in 1996 where the demands of farming's physical labor yoked her to a practice of stretching and connecting with the earth and seasonal rhythms. In 2012 Tamara graduated from Neighborhood Yoga Teacher Training taught by Valerie Midgett and Kelly Golden to whom she is ever grateful.
Tamara now spends most of her time at TNT Farm N Greenhouse in Meadowview where she grows organic transplants and vegetables and grass fed beef with Tony. She sees her asana practice as one of tender power, flowing and holding poses, mindful of alignment, and gently infused with intention and philosophy so we might glimpse the limitless potential that resides in all things. Some days we're totally on and strong. Some days we are raw and vulnerable. Having recently returned to teaching yoga, Tamara hopes to meet class participants where they are on any given day, so we can get where we want to go.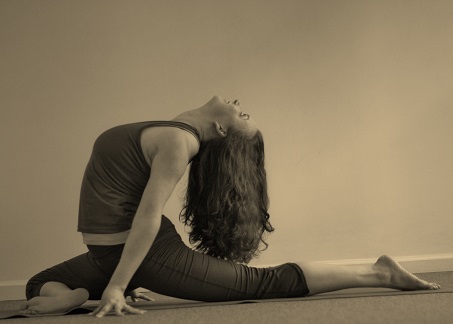 Camille Kingsolver RYT 200
Camille has been a yoga teacher since 2004. She completed her teacher training in Santa Fe, New Mexico with Tias Little, who has a background in Iyengar yoga, Ashtanga Vinyasa yoga, and massage therapy. Since her original training Camille has had the good fortune to study with many other talented teachers including Lillah Schwartz and Cindy Dollar of Asheville, North Carolina.Camille recently returned home to Southwestern Virginia after spending the last nine years in North Carolina, where she earned her BA in Anatomy and Biological Anthropology from Duke University and her MS in Clinical Mental Health Counseling from Western Carolina University. Camille encourages her students to be their most authentic selves by helping them find a balance between self-improvement and self-acceptance. She strives to create classes that are equal parts inspiring, challenging, and nurturing. In her sequences, Camille weaves together her passion for movement and fluidity with her knowledge of alignment and anatomy. Camille welcomes people of all ages, body types, and backgrounds to her classes.
Megan Atkinson, RYT 200 and Meditation Instructor
Megan Atkinson is the founder and director of Barter Theatre's Project REAL. Now in its 4th year, Project REAL has served over 3,000 students in 8 schools in VA, TN and WV.The program provides qualified theatre artists who assist classroom teachers by utilizing theatre techniques to help teach the core curriculum through the lens of each student's life experiences. REAL also introduces kinesthetic social interaction tools, promoting rather than restricting physical activity. Working primarily with middle and high school students in both inclusive and disabled classroom. Megan earned her BFA in Theatre Performance and is receiving her M.A. in Liberal Studies with her focus on connecting the craft of theatre with educational psychology and embodied cognition. Megan is also a certified personal trainer through the National Academy of Sports Medicine, which allowed her learn the mechanics of the human body. She completed her RYT 200 at Whitetop Yoga with Vira Bhava Yoga.
Megan is extremely excited to share the tools of mediation as a way to find stillness and connect the breathe with the mind and body. Through this practice, one can learn to deal with stress, treat his or her own health, and find his or her true voice.
Megan invites you to come find your breath and find the health benefits of meditation.

Maggie Fuller RYT 200, Reiki Practitioner

Maggie Fuller is an enthusiastic newcomer at Whitetop Yoga, and an avid student of life. After years of searching for something- something for herself- Maggie finally committed to her yogic path at the beginning of 2015. Later that same year, she completed her 230 hour teacher training through InnerSea and Bristol Yoga; it completely transformed her from the inside out.Maggie's personal yoga journey opened her eyes to all yoga really had to offer: allowing her to keep discovering her true, authentic self, as well as building the foundation from which she has learned to love and accept herself. This deeper connection and newly found love is what brought about her desire to teach and share her practice.As she and her journey continue to blossom, Maggie has also realized yoga isn't just about what you do on your mat... It's more about taking the tools of yoga OFF the mat, into everyday life: learning to take your time, breathe, stay present, and cultivate a mindful awareness in all that you do. The literal definition of the word yoga is to yoke, to join, to connect. Yoga builds the connect to the body, breath, mind, and ultimately the connection we have to ourselves and others.As a yoga teacher and Reiki (energy healing) practitioner, Maggie's ultimate hope is to create a compassionate, supportive space for others to know the comfort of self love, and to help others find themselves, their own unique path, and recognize their natural, radiant light. Her goal is to see students go from human beings doing yoga, to humans BEING yoga.As stated in the Bhagavad Gita, "yoga is the journey of the self, through the self, to the self."Maggie firmly believes that yoga is for everyBODY, and provides variations, modifications, and gentle hands-on adjustments to assist students in their own individual practice. Just as every person and their path is different and distinct, so is their yoga practice... and that is something beautiful!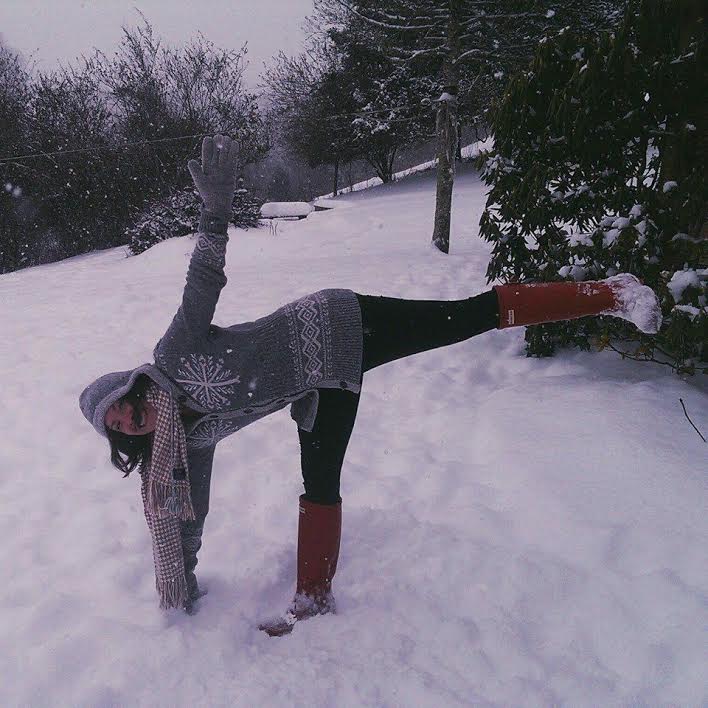 Lauren Kilbourne, RYT 200
A native of Northern Virginia, Lauren attended Emory & Henry College and so began her love affair with Southwest Virginia. Unable to resist he call of the mountains, Lauren and her husband settled in Abingdon where she took her first yoga class at Whitetop Yoga in 2014. A true homegrown Whitetop yogi, Lauren recently completed her 200 hour certification with Vira Bhava under the guidance of Julie Rutherford.She believes that yoga is a journey inward and homeward. Yoga provides an opportunity to connect to the divine that resides in all of us, underneath the layers of "stuff" from our everyday lives. It is a practice that connects mind, body and soul.

When she's not in the yoga studio, you can find her walking her corgi and pitbull through town or on the Creeper Trail with her husband, Tim. Lauren also plays the violin in the Heart of Appalachia Community Orchestra in Lebanon. An avid reader, she's always looking for book recommendations.





Cory Scott, RYT 200
Cory Scott is a therapist, homesteader, and mother of two. Cory first fell in love with yoga early in life. Since then, yoga and meditation have become an integral part of her personal growth and self-care. She and her partner Nathaniel moved to Abingdon in 2009 to explore homesteading on her grandfather's farm, where she had the opportunity to care full-time for her grandparents in their last years and enjoy her babies. She currently works full-time as a therapist and holds a MSS with a specialization in Child and Family Well-being from Bryn Mawr College's Graduate School of Social Work and Social Research and a B.A. from Goshen College. She will complete her 200 hour yoga teacher training in October 2017 at WTY and will continue her yoga studies in 2018 in the 300 hour teacher training at WTY. Cory feels so blessed to have the opportunity to teach a practice that enables students to embrace and explore their true nature and embody their inherent power.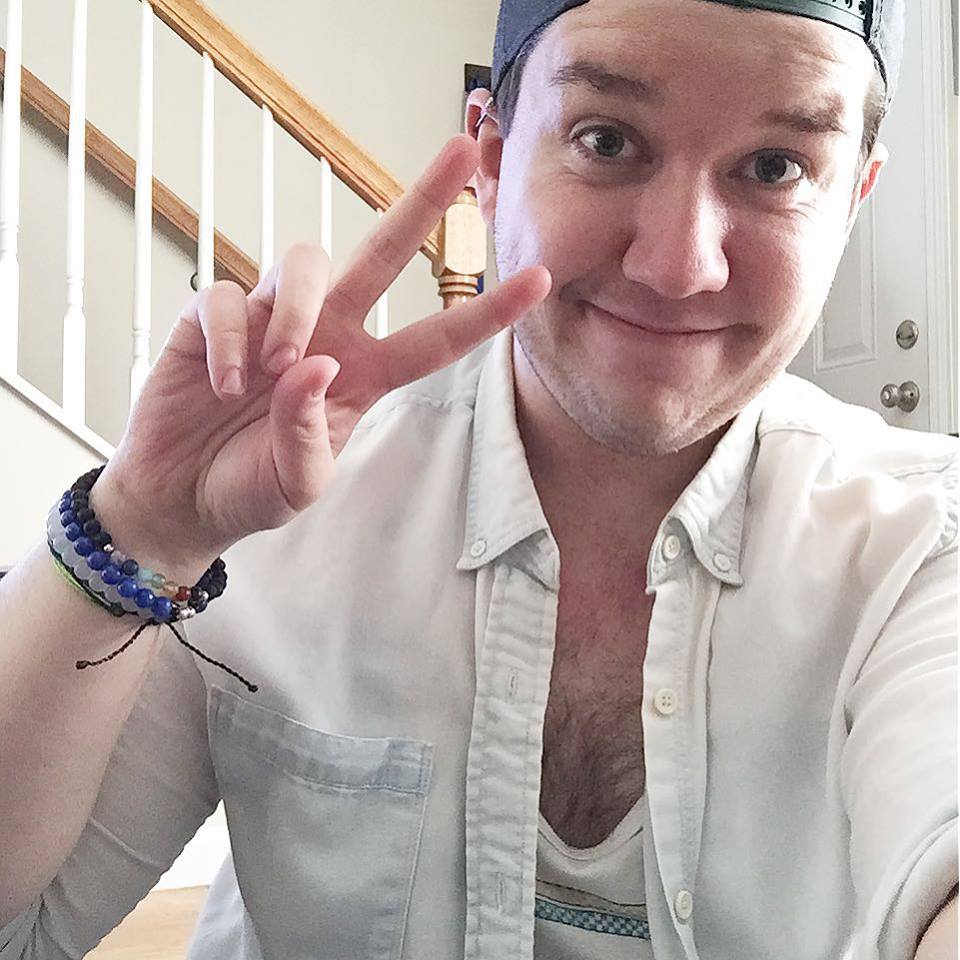 Zacchaeus Kimbrell Reiki Practitioner, Certified Crystal Reader
Zacchaeus has been a member of the Resident Acting Company at Barter Theatre since 2013, and also serves as the resident vocal coach and dialect coach. He moved to beautiful Abingdon from Alabama and immediately fell in love with the area, the people, and Whitetop Yoga! He is an Usui Reiki practitioner, and has completed Reiki I and Reiki II. He continues to study under Usui and Tibetan Reiki Master, Marita Aicher-Swartz. After his first Reiki session with Marita, he knew that the daily practice of Reiki was something that would forever change his life, and he wanted to share that with others. The light and healing Reiki can bring to one's life is transcendent.
Seeking to live by the five precepts of Usui Reiki, Zacchaeus asks you to also try it: Just for today, do not be angry. Do not worry. Be filled with gratitude. Be committed to your work. Be kind to others.